Buy online:
Buy from iTunes
'Once Upon A Time...' - tales and songs from Mali
Some of my happiest childhood memories are from holidays spent with my grandparents in the village of Koulikoro – especially the evenings of story telling.
There was no electric light in the village when I was growing up, only oil lamps. But the moon and the stars lit our way when, after supper, we would make our way to one of our grandparents for a storytelling session. A fire would already be burning when we arrived, and we had been taught to greet all the adults present very respectfully.
"Once upon a time…" the story always began, and with those words magic was already in the air. Several hours later, when some of the boys couldn't stop themselves yawning with tiredness, grandma would finish the story saying, "And now I´ll put this story back where it belongs."
That is the tradition in Mali, for as the wise old people say, a story does not belong to the teller, it is just on loan, and like everything else borrowed it must always be returned to its rightful place. My father had inherited my grandma's gift of storytelling and right up to his death he would delight in telling me some of the stories from his childhood.
Now I want to tell you some of the stories from Mali and therefore I have written the book 'Once Upon A Time ...' and recorded a CD with songs belonging to the stories. I´ll be very happy if it inspires you to begin storytelling yourself. Hope you will enjoy them.
- Moussa
---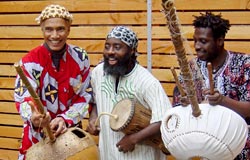 Moussa Diallo Trio performs for children, teachers and parents in schools, cultural centers and other venues.
Moussa Diallo - bass, vocals and storytelling
Ayi Solomon - percussion and vocals
Dawda Jobarteh - kora, tama and vocals
---
View a Flash presentation with excerpts from book and songs. (The presentation will open in a new window)
View video clips from Moussa's School concerts
You can also read a few samples from the book here.
Greek version: "Once Upon a Time..." has been translated to several languages. Get a taste of the Greek version here (Presentation opens in a new window)
---
About the school/children's concerts
The aim of Moussa's trio is to recreate the magical atmosphere he himself experienced as a child when the elders in the village used to tell stories. Moussa sings and tells the stories taking his audience on a journey into the Malian world of fairytales. Children are encouraged to interactively take part in the performances. In Denmark the book and the CD are used in schools to tell about Malian culture and to prepare the children for our visit.
Since 2004 the trio has performed over 1000 concerts in Denmark, Norway and Sweden.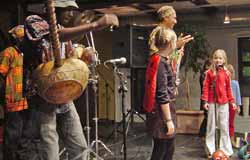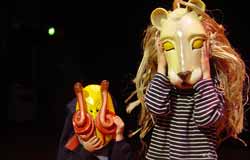 The concept of this project is to bring Malian storytelling tradition and music to schools in different countries. Diallo's wish is to be able to cooperate with singers/storytellers from the respective countries, as he has successfully done in Norway with Barth Niava, who was telling the stories in Norwegian.
To date the book and the CD have been translated and recorded into Norwegian, English, French and Greek. The Greek version is sung by Greek singer Despina Apostolidou. Moussa Diallo himself performs in Danish, English, French and of course Bambara.
View some of the drawings Moussa gets from kids who has enjoyed the show