Moussa Diallo's projects in Zanzibar
Documents about workshops in Zanzibar, January 2009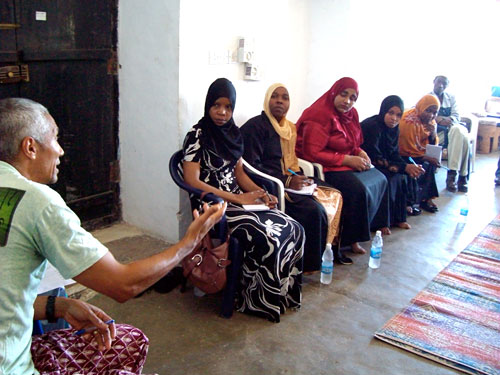 ---
Workshop with Moussa Diallo January 2009
Participant's speech for workshop presentation on 30.01.2009 at DCMA presented and spoken by T. Zainab Abdalla
Our Guest of Honor
The leader of our workshop
The coordinator of the workshop
The students and teachers of the DCMA
All distinguished guests
My fellow teachers, ladies and gentleman
First of all we have to thank our Almighty God to enable us to be here with good health and also to be able to complete our workshop safely.
Our Guest of Honor, after praising our Almighty God, I would like to talk briefly also on behalf of my fellow colleagues.
To be honest we didn't have any idea about where DCMA is and what DCMA is all about here in Zanzibar, although we are living here in the same island.
Our appreciation has no limit and our thirst and our cry for acquiring more educational knowledge is extremely loud. It would be fantastic to arrange these kind of workshops for a longer period al least 2-3 weeks. We have seen and realize the benefits of Moussa Diallo's workshop.
Even though I promised not to talk too much but I have a feeling you won't get my point that's why am still continuing. We are promising you that we are going to share the knowledge we acquire with our colleagues and also we will apply the super teaching methods using stories and songs.
We also have a request to Mr. Moussa Diallo to spread our message to donors and even teachers from other countries if they would exchange teaching materials like books, music instruments, ideas or even different lecturers to come to visit us.
Moreover, on top of all these and also on behalf of my colleagues we all would like to thank you for inviting and warmly welcoming us here at the DCMA.
Lastly, but not the least we would like to thank Mr. Moussa Diallo for your patience and for your super workshop.
Asanteni sana.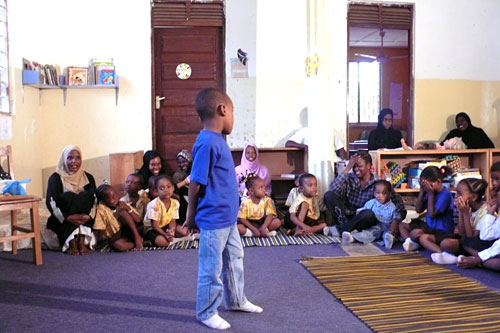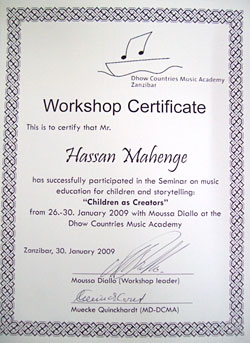 ---
Evaluation on Workshop with Moussa Diallo Januray 26 – 30, 2009 at DCMA
Introduction
It was a rainy day, a bit cool for the Zanzibaris, most of us were somehow wet. Slowly the teachers were showing up. Nice and great to see them join.
Moussa Diallo was there earlier but wet as well. He was excited to see the group of Zanzibar teachers who were keenly interested to join the workshop and to meet him, excited to see what he prepared for them.
We started the warm up with the name game to have a possibility of knowing each other.
Learning out of it
Moussa Diallo explained about how to use Story Telling in schools as an educational tool. The stories that our fore-fathers narrated to our elders, taught about wisdom, respect and patience, about social and communal living everywhere in Africa. Today in this modern world Story Telling can as well applied as an educational tool.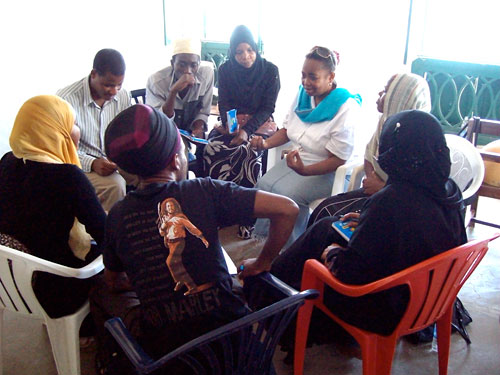 Discussions and Debates
During the rounding of discussion some expressed that in Africa you will have everything organized. We had Kings and Queens in Africa and the sovereignty of their Kingdoms. We had our rules in any sector like eating, speaking with elderly ones, staying peacefully and nicely with neighbours and many more, all these are in our stories and fairy tales. It is pity not to apply all these precious and "already set for us useful rules".
Ideas flow like river Nile
Many of the teachers as well as students are facing a lot of problems in schools but the solution has been searched or even researched. We have a strange habit of closing eyes to our problems in our society. We pretend not to see drug addiction problems, sexual violence, children fear to schools, machismo, lack of cooperation between teachers and parents, watching television without any control and limits, music is good or bad? All these are not dare to be cleared by anyone! You will become an alien in the city!!
Another problem is that parents do not participate during school accessions even during graduations of there own children some parents are not even aware of which grades there children are. We have witnessed even on the high level like universities you would only meet professors and there graduates with the guest of honour but none of their Baba or Mama would show up"!
The outcome
All participants realized that if we stand firm together we should be able to educate our children and our society by using different methods like story telling and theatre. We all come to the marvellous idea of building different theatre groups, acting about the problems and the audience have a task of solving these problems or even to share ideas in solving.
We formed three theatre groups among all the participants dealing and acting on the following themes:
a. Television catastrophe
b. Father as a King
c. No co-operation between teachers and parents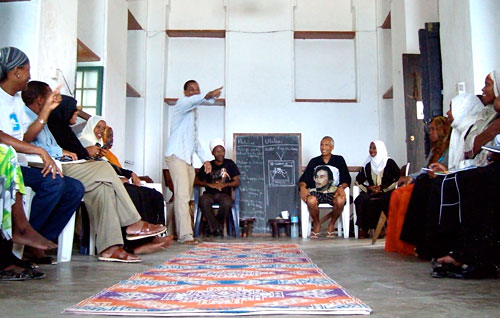 Appreciation
Most of the teachers (participants) enjoyed having a role to play in those theatre. We learned a lot from each other. Moussa Diallo as well had a golden opportunity to inform himself about our culture and tradition. Africa is great, vast and rich in its culture, very similar but different to each tribe or nation.
From me
I would like to thanks everyone but also giving a credit to the teachers from government schools for joining us. We haven't had such cooperation with the government schools on the culture basis. I have seen this workshop as a lighthouse to make them come nearer and to see clearly that the DCMA has a potential and also as a revival of the Zanzibar culture.
Said Vuai
Head of Children Department
Coordinator of the workshop Zanzibar in February, 2009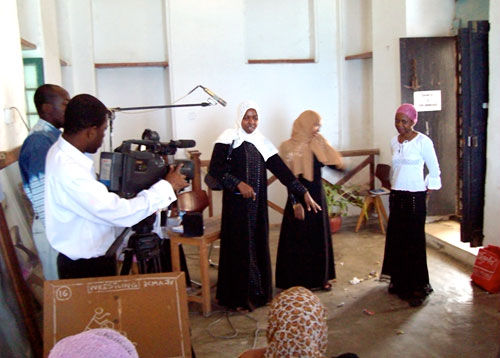 ---
CHILDREN AS CREATORS
Report on a story telling workshop with Moussa Diallo (Denmark/Mali) January 19th to February 1st, 2009 in Zanzibar
The Dhow Countries Music Academy, Zanzibar has invited Moussa Diallo to come to Tanzania for a two weeks work (19. – 30. January, 2009) focusing on children education. DCMA had asked Moussa Diallo to
give a special training for the DCMA teachers working in music education for children (visit of schools and classes & evaluation)
give a 5 days workshop that is also open to interested school teachers for Music Education
DCMA paid this workshop out of the general funding given by the Royal Norwegian Embassy. We are therefore very thankful that the Danish Center for Culture and Development in Copenhagen has been funding the international flight costs for Moussa Diallo and that the Danish Embassy contributed US 2000.- to the local costs. Which included a visit in a school in Morogoro.
Timetable & Program Mousa Diallo / January 2009

Mon.

19.01.

work with the DCMA teachers / analysis

Tue

20.01.

visit schools in ZNZ

Wed

21.01.

visit schools ZNZ/ afternoon travel to Dar

Thu

22.01.

Meeting at Danish Embassy / Travel to Morogoro /

Fri

23.01

Visit of the school in morogoro / travel back to Dar

Sat

24.01.

free time

Sun

25.01.

free time

Mon.

26.01.

Seminar with teachers in ZNZ

Tue

27.01.

Seminar with teachers in ZNZ

Wed

28.01.

Seminar with teachers in ZNZ

Thu

29.01.

Seminar with teachers in ZNZ

Fri

30.01.

Presentation of the seminar at DCMA

Sat

31.01.

free time

Sun

01.02.

free time
Work with the DCMA teachers and visit schools, DCMA is working with
The idea of having a time to get to know each other and having the chance of an analysis of the DCMA work proved to be right. Moussa Diallo visited two schools, joining and watching the work of the DCMA teachers in one class and having a storytelling session in another school, where DCMA and Zanzibar teachers could see him working with kids. This was inspiring and very fruitful for all sides.
for kids who loved the storytelling of Moussa
for the teachers watching
for Moussa who had not expected the experience of DCMA teachers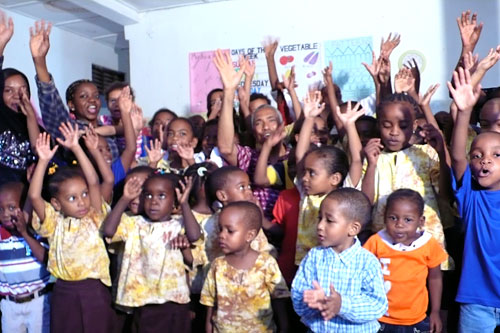 Visit a school in Morogoro
For two reasons Zainab Athumani, one of the DCMA teachers, accompanied Moussa on his journey to Morogoro. First: to make the journey more pleasant, easy & secure to Moussa. Second: to take the chance of visiting and getting contact a primary that is now starting to work with the program "Children as Creators" introducing different forms of arts (theatre, storytelling, dance & music to children. According to a problem with the bus the two arrived late on Thursday, their visiting time at the school was very short. On Friday morning they were shown around by David Kitururu including a presentation from the kids.

Story Telling Workshop for teachers
DCMA had sent letters of invitation to different schools in Zanzibar encouraging teachers to take part in this workshop. The participation was free. On top DCMA paid transportation costs for each participant and served lunch at all workshop days. DCMA also bought notebooks for the participants to be able to write down and save their experience.
We were very happy about the great interest and the participation of 24 teachers (18 women / 6 man) from different schools, private and public institutions. Some of them had never been before to DCMA and they are now very enthusiastic about having access to an institution like this and taking use of it. On top of working on Story Telling the group was very happy about the chance of exchanging their experience in between each other. In the evaluation the ask DCMA to continue inviting them on a regular basis, creating something like a monthly teachers meeting point. DCMA will follow that idea.
In four workshop days Moussa introduced the group to different forms of expressions by using games, physical training, music, singing……
In spite to my personal expectations that the work would go into a more poetic direction using ferry tales and other stories, the presentation of the seminar work showed that there is a great need for the teachers to use theatre to reflect their work. All three groups used social drama to express themes and conflicts they deal with every day:
Television catastrophe
Father as a King
No co-operation between teachers and parents
With a great passion for acting all participants once again showed the importance of dealing with themes like this. It was visible and sensible that all teachers were really committed.
Like for all workshops taking place at DCMA a final evaluation and questionnaire from all members and a report from the coordinator is obligatory. Please find the documents attached to this report. The workshop results were also filmed. A documentary will be available in nearer future.
Resumee
For DCMA this workshop has been a great success. It promoted our school and stabilized our function as a cultural and social meeting point in the Zanzibar Society. It deepened the relations to the schools. And finally DCMA gained new potential students and teachers. Calling the vacancy of a position as music teachers for children, some of the workshop participants applied.
Indicators and measures of success are
Lots of new plays / songs/ dances learned that are not generally documented but individually noted by the participants in their books
new methods of teaching learned
Last but not least, we would like to thank Moussa Diallo for his great and inspiring work. Knowing that also he enjoyed his stay here, we hope that there will be many more times to have him come back and that our friendship and working relation will last and continue. Karibu tena DCMA - any time, Moussa and ahsante sana!
Muecke Quinckhardt
Dhow Countries Music Academy
Managing Director Zanzibar, March 4th, 2009